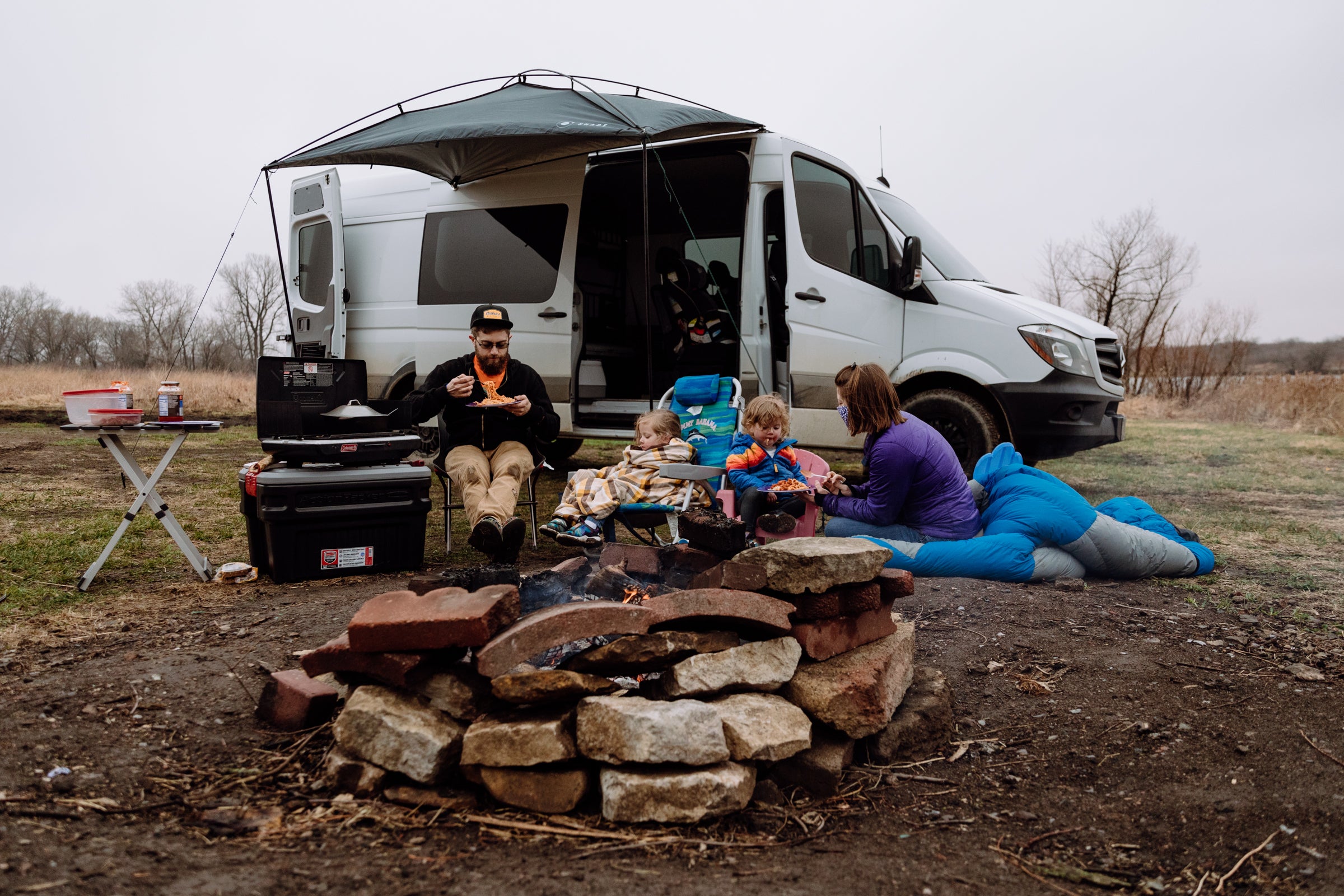 Vol. 1-11
The Larger Spectrum
Filmmaker's Notes:
The drive from Salt Lake City to Topeka was accompanied by snow flurries so dense that it was hard to see six feet ahead of us outside the van's windshield. Looking back, everything from that day of travel felt so visceral, and the environment seemed to shape-shift rapidly as we motored through snow, then a valley of sunshine between Vail and Aspen that was exchanged for ominous dark clouds again further along. At a gas station in Denver, the television inside warned about an incoming blizzard. We kept driving into the night, and got some sleep at a rest stop somewhere past the Kansas border. The next day the skies had cleared, and we entered the strangely familiar suburbia of Topeka with an odd feeling. We were still squinting our eyes, trying to focus after the adjustment it had been to show up back at a place that felt similar to where we had started on the trip (though now a good bit dirtier and more tired), when we met Andy, a city planner who is also on the board of volunteers at a community-run bicycle shop in the city, where people can come and work on their bikes for free, or earn their own bike by volunteering.
For Andy and his wife Kristina and their daughters Ava and Anna, spending time on the road is more about time spent outside than time spent inside the van, although they've creatively figured out how to accommodate an entire family in their Mercedes Sprinter. We met up with him at the bike shop, and then drove an hour or so outside of the city to a campsite that they travel to regularly, and we talked about what it means for them to be able to adventure together in this way.
Read the Interview
Henry:
For your girls, what's the importance of bringing them along in the van to places like this?
Andy:
Just spending time in nature and spending quality time together, those are the real primary basic things…starting to appreciate nature and animals and the outdoors, and kind of relating that to their everyday life.
Henry:
What does that appreciation for the outdoors mean for you?
Andy:
I think it's just kind of putting things in perspective you know, and recognizing that there's stuff everyday that has me anxious or worried. It's kind of just rechecking your place in the larger spectrum of things.
Henry:
I may be projecting this onto you, but I remember a moment when I was like 17 years old when I went out camping and saw a bunch of stars, and I was like "oh my god, this is it" —- I know you said your first experiences with the outdoors came through Boy Scouts, was there a moment where you had a really visceral experience as it related to nature?
"It (the outdoors) is kind of just rechecking your place in the larger spectrum of things"
Andy:
I think actually, as much as I enjoyed Boy Scouts, the structure of it became kind of overwhelming. We were going with a large group, and we'd have to bring all these boxes and all these things and it was this big kind of production to get everybody going, because it's like, you know, 30 or 40 Scouts. So it was kind of when I got to college, and I got the real basic camp gear, I was like oh wait, I can just throw these three or four random things in the car and go and be out in nature? It was just the ease of it and that I didn't have to plan. I guess that comes from work, where I'm having to plan everything. And this is just like, we're just gonna go, we're gonna take in nature. So I think it was kind of that recognition of the simplicity that camping offered. At home it's like, we're washing dishes, or we're cleaning up poopy diapers, everything has a process with it. Here it's just like, oh you wet yourself. Okay well, let's get that cleaned up – and then let's go do something completely different. Everything's simpler. We're cutting out a lot of the processes in the daily work and it's more fun to just be outdoors in a more simplified setting.
"When I got to college, and I got the real basic camp gear, I was like oh wait, I can just throw these three or four random things in the car and go and be out in nature?"
Henry:
It feels like a different pace.
Andy:
Yea, I mean right now because it's overcast outside, I have no idea what time it is. It's just camping time. You wouldn't have thought it earlier, but now we've come to some kind of equilibrium (with the kids), where we're not screaming at each other, everybody's calm and comfortable even though we're hungry (as he's warming up a plate of spaghetti) – you don't always get that at home.
Henry:
We talked to another family on this trip, and one of the moms was saying that for them the van was all about making family memories together. Do you see it that way too?
Kristina:
Yes, and they (the kids) have definitely become more independent, because we need a little more help from them occasionally.
Andy:
And I know they didn't necessarily have to help with putting up the awning poles, but including them has made them want more and more to try to help in little ways like that, without us even asking.
Kristina:
And they can both flush the toilet – even I'm still like "wait which combination do I do, in what order?" and they're masters.
Henry:
If another family was considering doing this, what would you suggest to them, any pros and cons?
Andy:
Oh yeah. I gotta think of a little more verbose response though. I mean, the van itself, obviously it's an investment, but there's a couple of things: one, we kind of edged into it by renting a van and seeing if it was something we wanted to do more than once and feeling that out. And then, particularly once COVID hit but even before that, we were like well, can we just see this as multiple vacations wrapped up into one thing? It was like prepaying for multiple vacations as they grew up, because we want this experience with them as they're growing, not just once they're teens and may be able to do more stuff, we want to start it now. So we're just kind of prepaying for these adventures on the front end by buying the van. And I know that's a privilege to be able to afford that. But the opportunity is there – that's kind of the way we saw it.
"We want this experience with them as they're growing, not just once they're teens and may be able to do more stuff, we want to start it now."
As we talked with Andy and his family, the rain started to spit and the wind was whipping up, and we eventually had to push their van to help it get free from where it had stuck in the mud. Throughout the conversation, the kids ran around laughing and playing - it seemed like everyone was game to tough out the elements, and in the moment I remember thinking that those little kids were lucky for all the cool little adventures they'd get to experience with their parents.
Maybe it was the last two weeks we'd spent out in some of the most untouched parts of the country, or all of the people we'd recently met with their nomadic and alternative ways of living and talk of life outside of the rat race, but we had probably created a sort of stigma in our minds for places that felt as normal as Topeka did when we arrived. It didn't take long after meeting the Frys for us to recognize that there isn't some huge difference between all the different kinds of people we had met along the road. We had only met one other family with children on our journey, but whether it was the story of a family or an individual, they all shared the same desire for freedom and adventure, and to be intentional in the way that they spent time together, in nature.
In Topeka, it really started to sink in that our trip was almost over. We spent a couple days there waiting out bad weather, before continuing on down to Arkansas, where there was one final person to talk to before this part of our adventure was through.