12 Moons of Christmas: Aeronaut Hoverquilt with The Van Kookz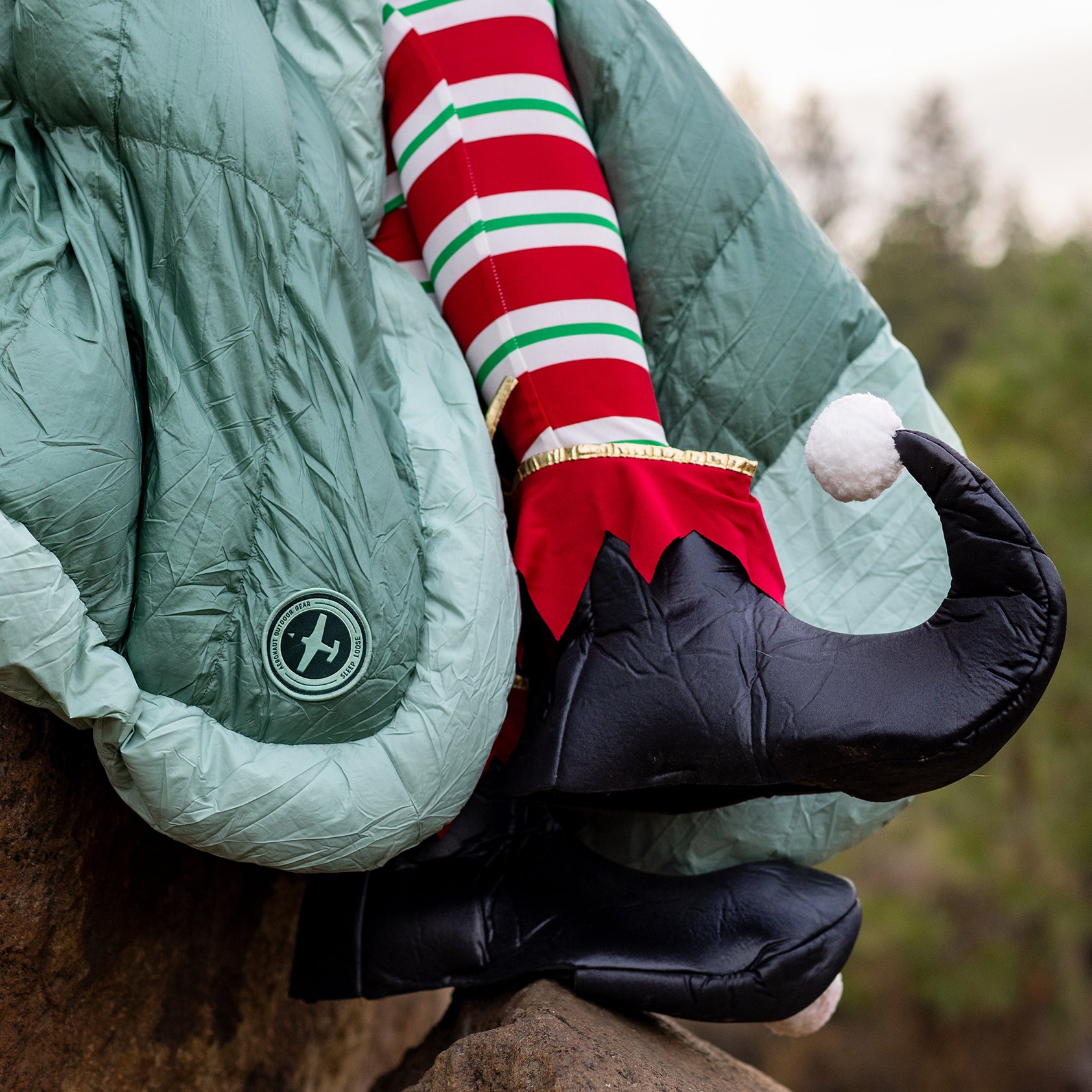 Read their full review below! 
Hurry, this'll only last til November 20th at midnight! 
---
My wife (Dani) and I have been living life on the road since 2016. Most winters/spring/fall nights are spent in sleeping bags. As you can imagine we have both gone through a wide selection of sleeping bags, which we like refer to as our "greasy fart sacks". Sleeping bags aren't cheap either—ranging anywhere from $300-500 (x2) for a nice one that you won't freeze in. Using separate sleeping bags doesn't leave many opportunities for cuddling and intimacy, as you're each wrapped up in your cocoon. The other issue with sleeping bags is getting out of them to go to the bathroom in the night. You will wake your partner up 100% of the time. If the noise of the bag alone doesn't wake them up, surely the zipper will or any attempt to crawl back in and toss and turn while you shake the entire rig. 
We have also tried to use comforters and more comfy, plush down blankets, but storage always becomes a problem with these monstrosities. And when it comes to the warmer months, they are just always in the way. We usually just end up donating them after the winter months.  We also dabbled in outdoor style quilts and blankets. But we didn't use them much because well… they weren't warm or comfortable. The fabric always seemed loud when you moved around, and I'm over 6 feet tall, and never seemed to have full coverage.
All of this is now in the past since we upgraded to the Aeronaut Hoverquilt. This thing is seriously a game changer for us. The fabric is incredibly soft and smooth and somehow not very loud when you toss around to get comfortable. Also, the 750 Fill Power Goose Down is something I've honestly never experienced.  It really is like sleeping with a big warm fluffy cloud. The size is also perfect. It's comparable to a queen size comforter and the coverage is perfect for two people. Or if you're solo, then you can really wrap yourself into a nice cloud burrito. It's also got a perfect rating, not too high and not too low, at 30 – 60 Degrees which is perfect for most nights outdoors. Obviously, you may need more if you are in colder environments, but it's been perfect for us!
One of the options that Dani loves are the straps/loops that it comes with to keep the banket in place. I am a blanket thief—I will always steal all the blankets in the night. This is one reason why we have used sperate sleeping bags/blankets for so long.  I will admit at first, I thought these straps were a gimmick, but they work. They also help keep the blanket snug, so you stay warm and cozy. Honestly without the straps the banket is so light and fluffy it might float away and join other cumulonimbus clouds in the atmosphere.
The blanket is made from durable 20D ripstop nylon fabric so it can be used outside of the van while watching the sunset on the beach or hanging out by the fire. Just be careful of embers as this isn't fireproof and you won't want damage your blanket.
We both give this blanket 5 out of 5 moons. We recommend this to anyone that spends a decent time camping/overlanding/or van life that is tired of crawling into a sleeping bag every night, or looking for an incredibly comfortable, warm and packable blanket that can be used year-round. Thanks to the Aeronaut Hoverquilt, we have put or sleeping bags back with our backpacking gear where they belong, and we now stay warm and toasty while "sleeping loose."