MoonLanding 1: Team Recap
Keep the MoonLanding 1 energy going with a recap and photos from the Moon and Journal of Lost Time teams
by Seb Cancino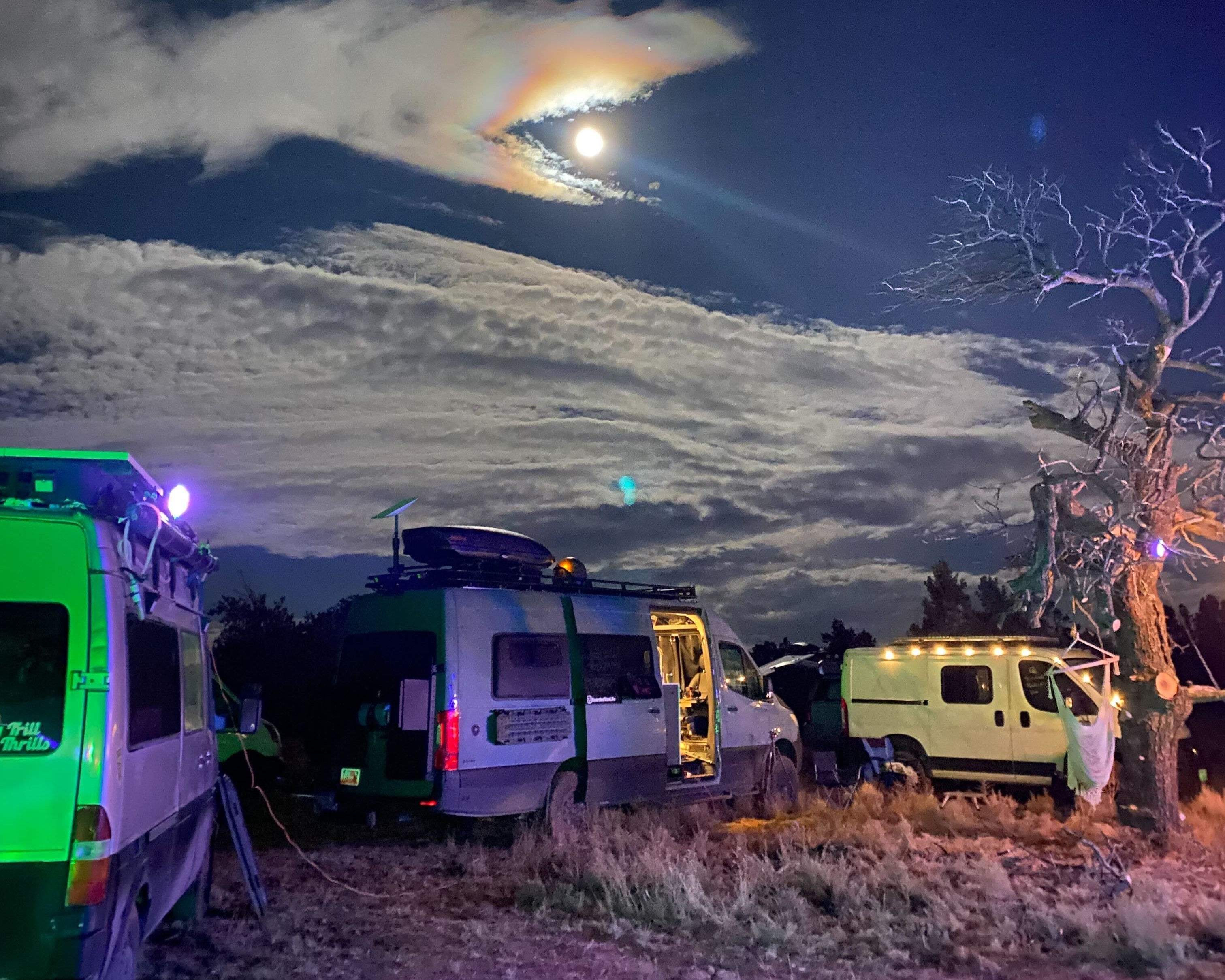 In the cool morning air of October 10, sun warmed the beaded dew clinging to every surface on the desert floor. Only a few days earlier, unseasonable monsoons crawled over the northwest corner of New Mexico washing out the road into Sky View Campground, the site for the first MoonLanding event.
By Thursday afternoon, trucks of gravel, tractors, front loaders, and side-by-sides of crew members were crisscrossing the entrance to the property. From the mud rose a new road and with it the hopes of a nomad gathering. The following four days were no less exciting, with confoundment replaced by wonderment.
More rain meant more time spent in camp with neighbors, making and sharing food and drink, telling story, feeling and laughing deeply. Each break in the weather felt like a gift. Tug of war, cook offs, yoga, music, dancing, crafts, and so many dogs.
It was a week of challenge and joy and all the elements of humanity and nature wrapped into one event uniquely experienced by each individual, and possible only through the collective will.
Here are some MoonLanding 1 reactions and photos from the JOLT and Moon teams.
---
Josiah, Journal of Lost Time
"I think we all feel the deep fragmentation and dissipation of *community* in our modern culture, and the peculiar socio-economic forces that have led to the rise of this new "nomadic" group.
What we have made together goes right to the heart of that illness, and right to the heart of what we need as humans.
It is good and true and beautiful work.
Excited and hopeful for 2023."
---
Simone, Journal of Lost Time Team
"My hands fiddled with the radio knob every few cities. Static became the soundtrack; mountains became the scenery. I was arriving a day late due to car issues, but even after breaking down three times, I was grateful to be riding in with a truck.
I was greeted at the gate by friends in a side-by-side who told me to kick it into 4WD high, and follow them. Over the newly laid gravel road we went.
Camps of vanlifers sprang up out of the yellow grasses over the next days. Our little desert city churned with life. Whiskey tastings, local speakers and comedians, pottery workshops, Van Olympics. We raced from camp to camp to get our fill of fun.
Soggy, activity-filled days turned into colorful nights. Mylar-clad friends danced under a spectacular full moon, neon lights, and the beacon of our gathering - a helium-powered glowing moon.
We had gathered as nomads and left grounded by each other. A trip to the moon was all some of us needed."
---
Eric, Moon Fabrications Team
"There's no other way to describe MoonLanding than out of this world. When unseasonable heavy rains washed out the road to The Moon, the community banded together to build an entire new road. This mission set the tone for a truly special weekend. The opportunity to connect with a community that utilizes a currency of hard work, compassion, and kindness is something we are so grateful for. We made so many new friendships and memories and we can't wait for Moonlanding 2.0!" | Photos: createyourownroadshow.com
---
Seb, Moon Team
New Mexico is familiar. Growing up in Texas, it was a frequent destination for family vacations. Revisiting as an adult, my sense of wonder, however, is both satisfied and catalyzed. The variety of landscapes, the people, the living history: it's a place I will never tire of returning.
I won't lie. My heart sank when I pulled up to the road leading into the event site the day before the gate was scheduled to open. The road was a mud pit and a couple vehicles had already made it through, while several still languished in the muck.
Being on the outside of camp, communications were few and vague, but the electricity in the air was perceivable. The teams jumped into action to move mountains. Mountains of gravel. Mountains of red tape. Mountains of atmospheric moisture. A road rose from the desert and passage made possible.
Once we entered the property, tensions slowly melted into a pace of ongoing maintenance and an abandonment to the rhythms of nature, the camp community, and the beat of the drums. An event to remember. Until next year!"
---
Moon is grateful to the Indigenous nations of New Mexico for their cooperation and for graciously hosting us on their traditional lands. Moon thanks Sky View Campground and their leadership, Journal of Lost Time, our cosponsors, the attendees, and the whole Moon community that made MoonLanding possible.
Header Image: Matthew Pearson, Moon Team