Moon Holiday Gift Guide 2022
Check out Moon's 2022 Holiday Gift Guide for gift ideas for the traveler and outdoor adventurer in your life.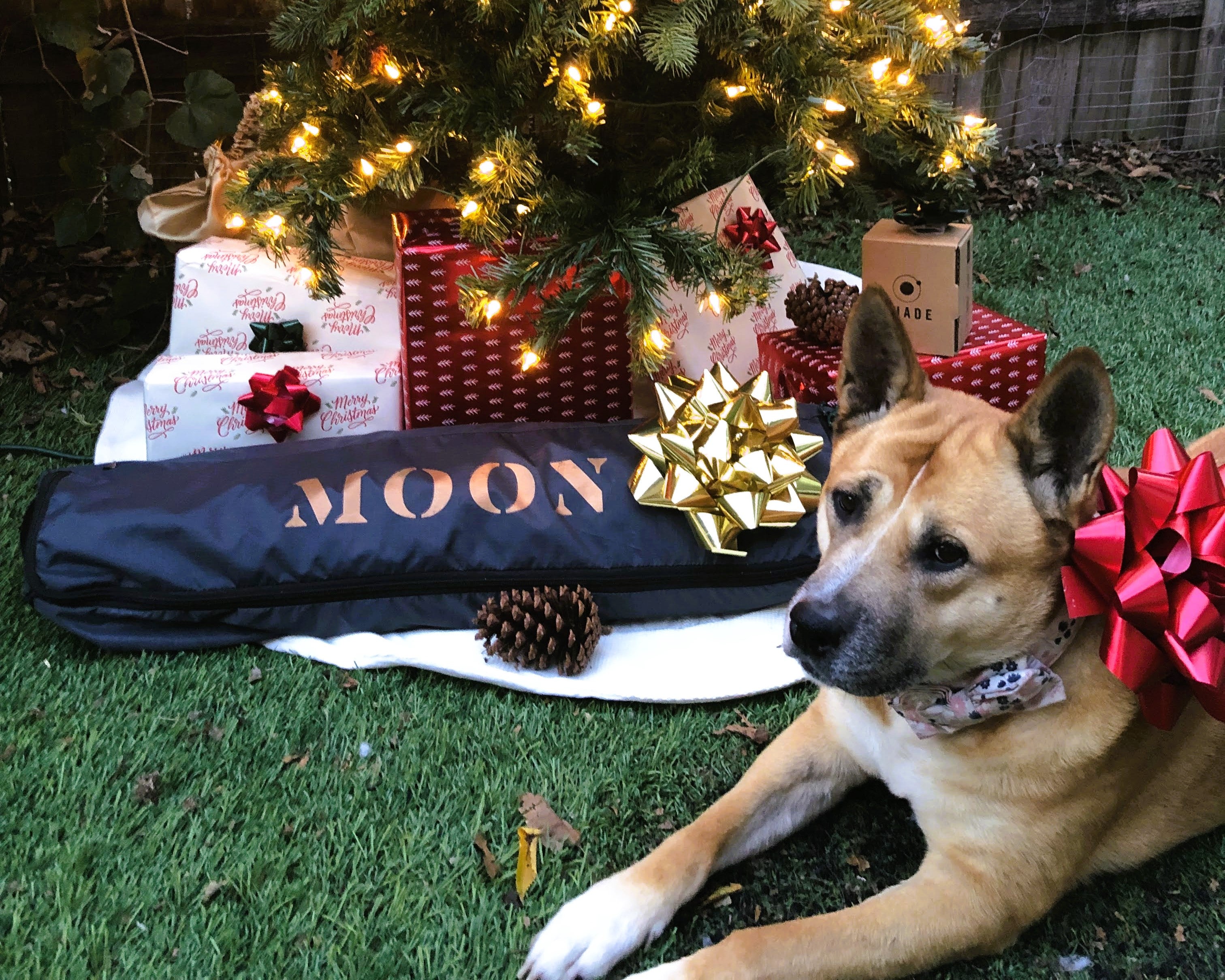 The holiday gift giving season is upon us already somehow. I don't know about you, but time has really gotten tricky these last couple years. I'm still not done with Halloween, but we move on.
Let's get right to it: we want to help inspire you this season with our gift ideas for the wanderer in your life. We don't have all the answers, but we hope this helps jump start the creativity this year. Life is too short to give boring gifts!
---
Moon Holiday Gift Guide
Moon Gifts (shocking addition, right?)
MoonShade is a great gift for the outdoors person in your life. Full-time nomads and Little League parents alike use MoonShade when they need mobile shelter on the go.
Do they already have a MoonShade? Enhance their MoonShade experience with MoonWall (in Short or Long), our privacy and weather protection panel. MoonWall's simplicity and adjustability make it a highly versatile camp tarp. Add a Moon tee shirt or hoodie made from 100% recycled materials to really bring home the Moon drip.
Moon Gift Card
Not sure what Moon gear to get them? Waited until the last minute to shop? Try Moon gift cards! Now available at moonfab.com, Moon digital gift cards are a great way to give the gift of shade without knowing all the details…
Here are some suggestions for gift card denominations and what the shopper could purchase (amounts in USD):
$500.00: Covers a MoonShade and an accessory like a MoonAnchor or MoonWall
$250.00: Snag a MoonWall or two, and a couple MoonAnchors or an apparel item
$100.00: Get a MoonWall, or a MoonAnchor and a Moon hoodie
$50.00: Score a MoonAnchor and a Moon t-shirt
$25.00: Pick up a small MoonAnchor or accessory 
Camp Lighting
Setting the right camp vibe is no longer optional. Help your friendly neighborhood #vanlife influencer curate the right aesthetic with a lantern or LED string lights. There are tons of options on the market with even more features like built-in rechargeable batteries, small device charging, color changing, remote control, and the list goes on.
A favorite camping lantern of mine is the Radiant 314 Rechargeable Lantern from our partners at NiteIze. This simple lantern checks all the boxes for me:
Lightweight
Rechargeable
Charges small devices
Multiple brightness settings and a soft amber mode
Multidirectional reflector distributes light up, great for use with MoonShade's reflective undercoating
Outdoor recreation app subscription
Mobile tech and apps have made vanlife and travel so much more accessible. There are tons of free apps for finding campsites, trails, outdoor gear, and other outdoor activities, but some premium or pro features are locked behind a paywall. Gift your favorite wanderer with a month or longer subscription to their favorite app and unlock more possibilities!
Some of our favorite apps:
Dutch oven
There is nothing like cast iron cobbler or mac & cheese made in a well-seasoned Dutch oven, and they make a great gift for the outdoor chef in your life. With value priced options available at most big box stores, this is a practical gift that won't break the bank and cast iron lasts a lifetime.
Consider these buying tips:
If they only cook on stovetops, consider beautiful enamelware options with flat bottoms. They look great and are easy to clean, but they are pricier.
If they might cook on both stovetops and campfires, a legless uncoated cast iron with a bailing handle is great for multi-purpose use. A deep lid holds coals for more even campfire cooking.
For campfire and charcoal exclusive cookers (we all have that die hard friend, and we love them dearly) try an uncoated cast iron Dutch oven with legs and a handle.
Camp blanket
Coziness. Need we say more? You can't go wrong with the countless models of outdoor and indoor blankets available these days. Whether you go with an heirloom quality wool blanket, a packable insulated poncho combo, or a simple fleece throw for movie night in the camper, everyone loves a new blanket. Even the toughest, campfire-only cooking, dirt-loving, fun hogging outdoors person wants to snuggle up and relax at the end of the day.
Portable power station
If nomads know anything it's that power is prime. Beyond your deep cycle house batteries, sometimes you need a portable backup. Solar generators have become standard issue for road living, especially for those in smaller rigs with simpler needs.
Power stations are almost silent compared to gas powered generators and their portability makes them essential for everything from travel to jobsite to emergency preparedness. After the deep freeze in Texas in 2021, I purchased my parents a 250Wh power station so they can keep their phones and medical devices powered in case of a future incident.
Craft kit
Winter is coming! And with it, shorter days and chilly nights. And streaming reruns only goes so far. Space is always a premium in the van or camper, and crafts can offer an inexpensive (crafters, you're laughing already) and compact (partners of crafters, you're in hysterics) activity that offers a ton of benefits like relaxation and mental stimulation. Crocheting, painting, small-scale woodworking, and countless other crafts are perfect for those days when you just can't or won't venture out from the van. If you're looking to encourage someone's side hussle ambitions, crafting for fun can be a great way to foster entrepreneurship in your community.
Binoculars and guidebook
Birdwatching and foraging gained major popularity during the pandemic and they continue to see interest from outdoor enthusiasts and urbanites alike. An inexpensive pair of binoculars and a local or general guidebook for plants, animals, fungus, and other categories are a great way to get outside and even *gasp* learn something. Cold and rainy days in the van can be tough, but you can always birdwatch from a window and you don't even have to leave your bed.
Camping & community event tickets
If you've never been to a larger gathering of nomads, it can be a life-changing experience. The meeting and making of community in beautiful outdoor settings is part of why many take to the road. Gifting community event tickets this holiday season can be a great way to explore new regions or your own backyard with likeminded people in the travel community. Folks look forward to events, both established and new, such as Descend, MoonLanding, NorthWest Nomads, and Vanarky in the Ozarks to getaway, connect, and recharge.
Photo by Simone Arora 
Builder gift card
Is your friend, partner, or coworker having their dream camper built by a professional? Contact the builder to see if they offer gift cards or if you can prepay for an upgrade of the recipient's choice. Whether it's a swivel chair mount, upgraded finishes, or, perhaps, an awning (hint), add-ons can be pricey after the initial build cost, so send some stoke that will always be along for the journey.
Gift an experience
I think we've all heard or seen the headlines and social media posts telling us that those who spend more money on experiences tend to be happier than those who purchase material things. Experiences make great gifts because the memories can last a lifetime. From bucket list, over-the-top adventures to tickets to a local theater production, experiences leave us feeling enriched and often more connected to those we enjoy (or endure) them with. If you're on a budget, free local events and public lands access make for a great date night. Get creative!
---
Visit moonfab.com for more information about Moon products and Moon gift cards. You can contact us directly at support@moonfab.com, on Instagram @moon_fabrications, and at moonfab.com. See you on the road!