Mini Guide for Camping with Kids
By India Tate
Camping with kids can feel daunting. Parent and traveler, India Tate, offers tips and suggestions for a more enjoyable adventure with your little ones.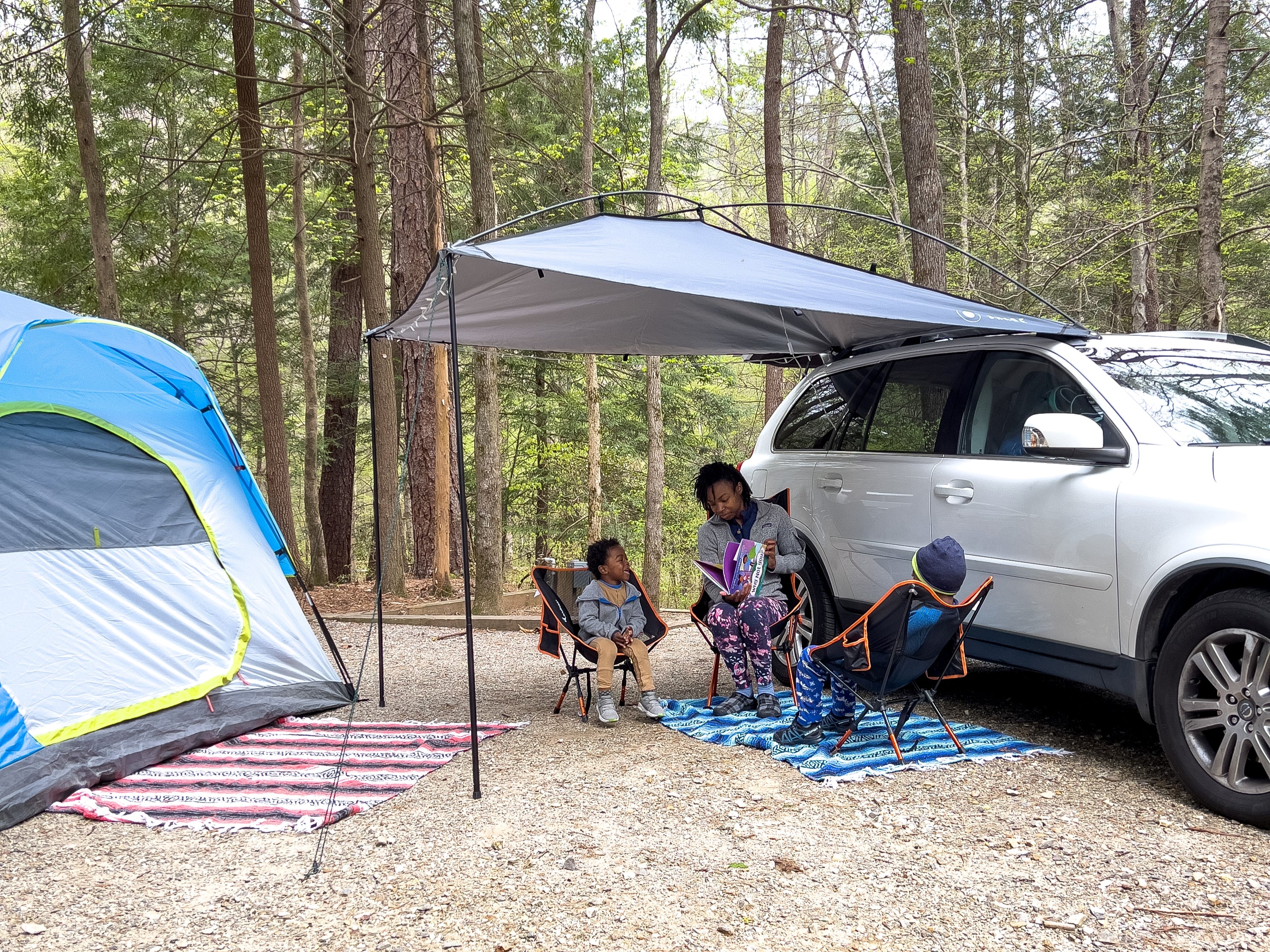 Camping with kids seems like a daunting task, but with the right preparation and the mindset to just do it, it can surely be done. When I was a kid, my sister and I used to go camping often with other family friends and we would do it every year for a long time! As I got older and started having my own kids, I wanted to be able to give them that same experience. We haven't camped with other families yet, but I do take them camping myself very often!
If you're a parent who is on the fence about camping with your kids, this guide will help you prepare for your first camping trip with them.
A Few Tips and Tricks for Camping with Kids
Prep your food ahead of time. It saves so much time when it comes to camping. Prep is usually the longest step when cooking. When camping with kids who sometimes don't have patience when it comes to food, it's best to prep as much as you can ahead of time. This makes for an easier dinner at camp.
Set some expectations when you get to your campsite. This is the perfect time to teach your kids about being considerate of others' space and privacy.
Plan a big trip with friends and family. There are many campgrounds with group campsites. Going with other people always makes the experience that much better and you have others to learn from and bonding opportunities for everyone!
Find a way to stay cool at camp. In the summertime, it can be really hot outside. Some campgrounds don't have shade at the site, so having an awning works perfectly here! You can also use your fan from your packing list (below) to help keep you cool at camp. I like to set a nice vibe at camp by adding twinkle lights to our awning or tent at night as well.
Plan and pack for your trip ahead of time. I can't stress this enough. It saves so much time and you're not in a rush. If you leave it for the last minute, a lot of important things may get missed and left behind.
Most importantly - Leave No Trace. It's so important to leave campgrounds as if you hadn't even been there. Remember: whatever you pack in, you pack out.This is a great tool to teach your kids so they can continue to grow into mindful adults in the future.
Bonus Tip! Practice setting up camp at home if this is your first time so you know how long it'll take and what to expect. You can set the tent up inside your home or set it up in your backyard.
What to Pack
Here are some essentials we take when car or tent camping:
Shelter & Sleep
Tent (with rain cover)
Tarp
Bin for sleeping gear
Mattress pad/air mattress
Sleeping bags, pillows, blankets
Outdoor Living Space
Portable fire pit (when we don't stay at established campgrounds)
Wood for campfires
Camp chairs + table
Awning (attaches to my SUV)
Camp Kitchen
Water containers
Cooler
Tote for non-cold food items
Bin for cooking supplies
Plates, cups & utensils
Napkins/Paper towels
Camp Stove
Seasonings for food
Propane
Pots/pans
Cooking utensils
Soap
Dishpans for washing dishes
Camp Supplies
Bin for camp supplies
Lighting (headlamps, lanterns, flashlights, fairy lights)
Lighter/matches
Trash bags
Toilet paper
Table cloth
Mattress pump
Shovel
Fire starter
Mini dustpan
Stakes + Hammer
Wipes/Hand sanitizer
Games
First aid kit
Duct Tape
Mini fans (for summer camping)
Bear Spray (camping in bear country)
Blanket for outside the tent (put your shoes here before stepping into the tent)
Personal Items
Towels
Rain jackets
Warm jackets
Underwear and base layer clothing
Sunscreen
Socks
Shirts
Pants/Shorts
Hat
Shoes
Sleepwear
Toiletries
Extra diapers (if you have a child in diapers)
Happy Camping!
For more family camping and road life tips, follow India and her family on Instagram, @ourwanderlust_life.