Choosing Your Travel Rig
Full-time travelers and friends of Moon, Eric & Ashley of CreateYourOwnRoadShow.com, offer their tips for choosing your travel & adventure rig. This is the first in a series of posts from Eric & Ashley.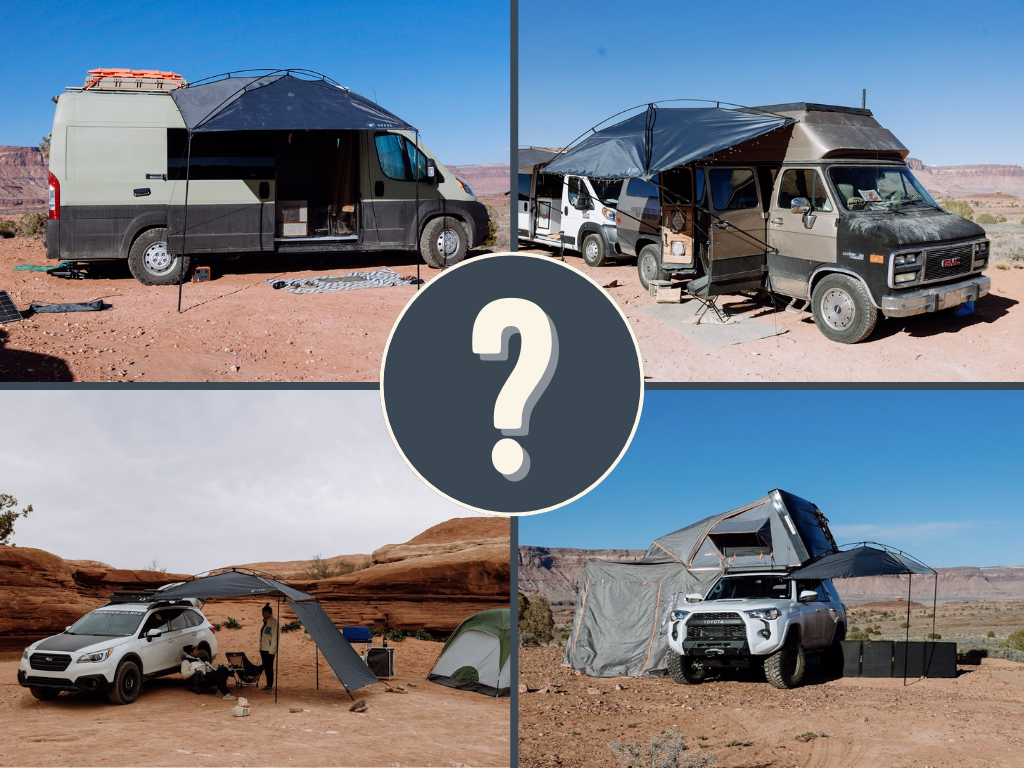 When faced with choosing a travel rig to fit your needs, the options can seem overwhelming. Where do you start? This article aims to help you narrow down your options by posing some important questions to consider when choosing your rig. Your budget is an overarching theme when answering all of these questions, so we're not going to talk about that specifically. But, establishing a budget is an important first step when choosing a rig.

We partnered with our friends Eric and Ashley from CreateYourOwnRoadshow.com on this post. Check out their website for more great tips and guides!
 ---
What are your options?
At the risk of stating the obvious, you should first know what all your options are before choosing your rig. There are an amazing number of vehicle platforms on which to build, and getting familiar with your options is an important place to start. Who knows: maybe you'll stumble across something that you didn't know existed and is perfect for your needs. Over at CreateYourOwnRoadshow.com there is a comprehensive list of all the different types of RVs out there so you can get familiar with your options quickly.
Turn-key or DIY?
The next most important question to ask yourself: do you want to build out your own rig or do you want to purchase something already built out? Related questions:

What does your timeline look like? Are you wanting to hit the road right away or is this a dream you're slowly working towards?
If going DIY, do you have the tools, space and time needed to tackle such a project?
Some of the most popular DIY platforms are cargo vans, school buses ("skoolies") and pickup trucks.
Photo: Eric Myers, createyourownroadshow.com
If you want a turn-key rig, you need to ask yourself if you want to work with a custom upfitter to build the rig of your dreams for you or if you want to shop 'off-the-shelf' options from an RV or similar dealer. Long lead times for custom builds may not work if you've got a vacation already planned, but RV dealers can get you out the door same-day in some cases.

Getting insurance is another important consideration when going the DIY route. Do your research before you start building. Below is a quick glance at where we think some common rig options fall along the DIY continuum.


Is resale value important to you?
All vehicles are depreciating assets; however, some can hold their value more than others. If you choose to go the DIY route, for example, your resale experience will be different than that of someone who is reselling an RV from a reputable manufacturer. If you plan to sell your rig or upgrade to a different rig later, you may want to consider purchasing something that you can recoup some of that investment from more easily. In general, 4x4 vehicles tend to hold their value a bit more than their 2WD counterparts as do classic vehicles. Vehicles such as school buses and ex-military vehicles can have wildly varying histories and may take longer on the resale market.
How much time will you be spending in your rig and how will you use storage space?
Your needs will change depending on how much time you plan to spend in your rig. If you're living in the vehicle full time you will want to prioritize storage and comfort much more than if you're a weekend warrior who's willing to rough it for a few days.

Do you want to bring your bike or kayak along for the trip? A part-timer might be able to justify using storage space for outdoor gear more than a full-timer could. This goes for visiting different climates as well. A full timer will have to prepare for this by storing seasonal clothes and gear whereas a part-timer can pack specifically for that trip.

Will you be working from the rig? Finding something that can be a mobile office or store all your crafting supplies might be a priority for you or maybe you plan to do all your work in a coffee shop.

Will you be traveling with a partner or pet? A part-timer might be able to justify a smaller bed to share with their travel companion, but if you're going full time you might want to budget more space for a larger bed. Below is a glance at where some common rigs fall.


To tow or not to tow?, that is the question…
If you already own a truck or other vehicle capable of towing, a trailer should be considered. Trailers come in many different forms to meet all budgets and you can even make a custom DIY trailer using a cargo trailer as a platform. One area where trailers shine is being able to leave them behind at a campsite and use the tow vehicle to run errands or explore off-road. Trailers, however, make maneuvering your vehicle harder and reduce your gas mileage, so they aren't for everybody.
How important is headroom to you?
If you're willing to duck in your rig, you have a few more options than if standing up is a non-negotiable. Having a lower roof keeps your center of gravity low and makes it less likely that the vehicle will catch cross-winds while driving. It also means you can go through drive throughs and fit in parking garages. Eric and Ashley explain their reasoning for choosing a low roof van here. How much time you plan to spend in your rig will impact your headroom prioritization.


Hardside or canvas?
Speaking of head room, there are pop-top options available that can provide some more head-room and flexibility if you're willing to live with the potential downsides. Want to go off-road but live in an area with lots of trees? A pop-top truck camper might be right for you. The downsides of pop-tops are that they are louder in wind, rain and with noisy camp neighbors. They also aren't allowed in certain campgrounds that have frequent bear visits. Canvas requires more care and maintenance to keep leak and mildew free, and pop-tops can also reduce storage space inside and roof carrying capacity.
Photo: Eric Myers, createyourownroadshow.com
What level of off-road capability do you want to have?
Do you intend to spend most of your time in and around the city, or would you rather be exploring Forest Service roads? You might be surprised how capable your average car is and many people get pretty far with a regular cargo van or SUV with some good tires (many small and mid-size SUVs have all wheel drive).

If overlanding is more your thing, check out this post from CreateYourOwnRoadshow that covers all your options for 4x4 camping rigs. Owning a 4x4 vehicle comes with some extra responsibility if you intend on pushing your vehicle into difficult terrain, possibly far from help. At the very least you should consider dedicating some storage space for things like an air compressor, tire patch kit and basic recovery gear. Another consideration is choosing a vehicle that has good aftermarket upgrades available if you want to make your rig more off-road capable in the future. For example a pickup truck will have many more aftermarket options then a cargo van of the same make.



Have you rented a rig or visited a trade show?
If you've narrowed down your options to just a couple, you may want to consider renting to test them out. There's nothing like firsthand experience. By renting a few different options, you can be more confident in your decision before pulling the trigger. You may also consider going to a trade show specializing in the market you're interested in such as an overland or RV show to talk to the manufacturers themselves and other people who have owned the rig you're interested in. Events like Adventure Van Expo and Overland Expo are great opportunities to see a huge variety of recreational and utility vehicles in person.
 ---
Wrap Up
We hope that these questions have been thought provoking and helpful in deciding which rig is right for you. There's one thing for sure: there's no perfect rig. You're going to have to make sacrifices in one way or another and that's ok: your first rig doesn't have to be your last rig.

No matter which vehicle you end up with, Moon has you covered. We offer multiple custom MoonAnchors that adapt MoonShade and MoonWall to any platform.

For more information on how to build your own campervan, travel tips and advice, check out our friends Eric and Ashley at CreateYourOwnRoadshow.com.