A Dream Apart, A Life Together
Moon Fab team member, Loui, shares his family's story & their journey to full-time travel living in their trailer, Atlas On Wheels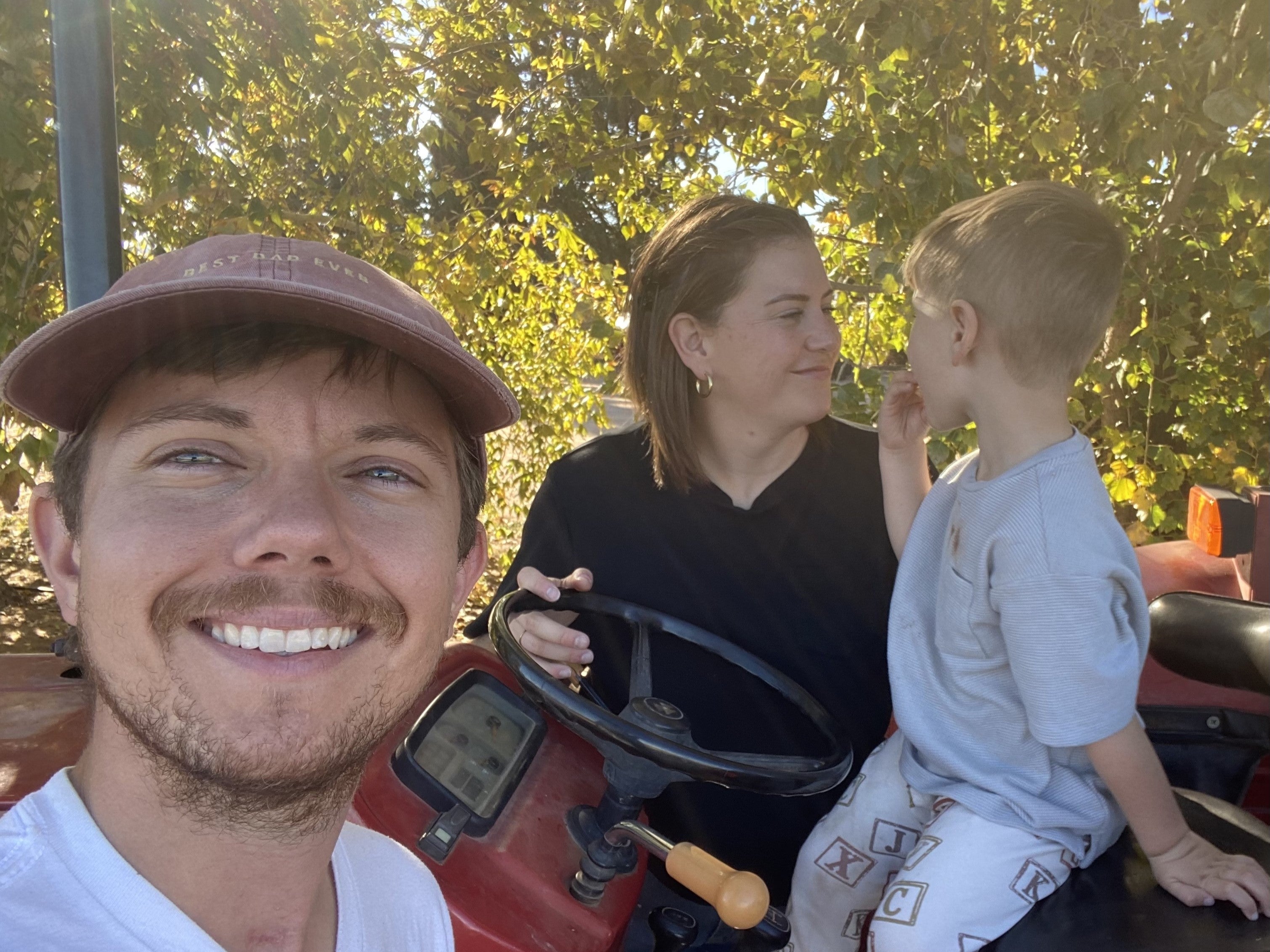 Hi! We're the LoVe Family and we have been living full-time in our travel trailer since August 2022. We have already traveled over 3,000 miles and have visited more than 10 states, and we want to share some of our journey so far with you.
The start of full-time travel life
In little time, this lifestyle has shown us no matter what is going on in the world, that being in the here and now takes priority. Safety and the simple desire to experience this season of life to the absolute fullest drive us to stay present. The moment we sold our house and downsized everything, we signed up for a new adventure, and we're here for it. All in.
Honestly, it was hard for us to know if this way of life was truly doable (i.e., financially, mentally, physically, etc.) until we were actually living it, and, as with any big change, allowing time for adjustment is crucial. We do have prior experience traveling long distances in a small 21 ft travel trailer and a 32 ft Class A RV, and we believe this made adjusting a bit smoother for us. We plan to continue traveling around the U.S. over the next 1-2 years, as long as this lifestyle is sustainable, or until we find a place that we would like to plant roots.
Teamwork is the foundation of everything we do in our family. On travel days everyone has duties, and as long as everything goes smoothly (e.g., no chickens in the cargo bays, and yes this actually happened), we can have everything ready to go and in a stowed position in an hour. Something we realized quickly is that we are all happier if we only travel 200-300 miles at a time. For example, even if our estimated drive time is 4 hours, with all things considered, our travel day ends up double that. Which is a lot on the mind and body when traveling so frequently.
Our son Finn has shown incredible flexibility and resilience during this season of change. Especially in the beginning when we uprooted ourselves from our home of two years. Moving into Atlas, our trailer, in a way, felt seamless. Transitions and changes can be tough for Finn and he has grown so much already, mentally, emotionally, socially, and physically, while on the road. I actually believe he has had more growth on the road than he would if we were back home stuck in our old routine. As long as we keep him in the loop with our tentative schedule and have plenty of snacks and activities handy for him, he handles travel days well and has adjusted to this lifestyle quickly. The first time he referred to Atlas as our "home" my wife and I looked at each other and teared up out of relief and admiration.
We were worried about how he would adjust and we knew that once we took all of the necessary steps to dive in we couldn't just press an undo button. So far, Finn's favorite part about living on the road is the closeness that we share in our living quarters and the 14+ playgrounds (& handful of indoor play places + museums) he has already explored on the road. As for my wife and I, we have enjoyed quality time, seeing family along the way, a sense of financial freedom, and waking up in a new place to explore after years of feeling stuck in one place. Though we do love being on the road, after two months of constant moving every 3-4 days, we looked forward to our winter arrangements where we would be stationary for a few months.
How did we get here?
Over the last few years, like many others, we encountered some trying times. From the global pandemic to personal and familial health issues to the loss of loved ones. The waves of the pandemic have impacted us in many ways, mostly financially and experientially through much loss.
As an LQBTQ+ family living in a small town in the South, we often felt like we didn't have a safe community to connect with outside of select family and friends. We felt separated from our queer roots, which is a huge part of who we are. As for me, I identify as a queer transgender male, and my wife identifies as a queer cisgender female. The desire to find a community where we feel truly at home was a big push for us to make moves towards change. Recently, I became an LGBTQ+ Ambassador for @vanlifepride as a way to support this connection for ourselves and others while we are on the road.
During 2021, I worked to finish my master's degree, commuted to an unpaid clinical internship in a different state, endured a thyroid cancer diagnosis, underwent countless biopsies, two neck surgeries, and radiation therapy. All this while working and trying to remain a decently positive human being. During this already stressful and scary time, my wife lost her grandmother to COVID-19, felt stranded (due to the pandemic and our financial situation) away from her family members and friends whom she'd never lived apart from, worked a part-time job, and helped to care for our home and our kid as we tried our best to stay hunkered down or out in nature. At the end of 2021, I completed my Master's in Clinical Mental Health and graduated virtually while quarantined from everyone due to the RAI I-131 radiation treatment. We brought in the New Year needing some R&R and not having much time for it.
In February 2022, I started the incredible adventure of working for Moon Fabrications as one of only two customer experience agents.
Exactly a year after the thyroid cancer discovery, in March 2022 I received the news that my surgeries and radiation were successful and that I was cancer free! I celebrated relief while acknowledging residual apprehension. When I received a cancer diagnosis, it was a literal "wake up and live the life you've got because we aren't promised tomorrow" kind of experience. My deepest fear was that Finn would have to grow up without me. Life doesn't pause for cancer. Everything just keeps going. I will say though that this terrifying experience resparked my motivation to live each moment to the fullest and have gratitude, even in the hard times.
In May 2022, COVID was still lingering and we were still struggling financially even though I was working three jobs. We were just trying to get our feet back on the ground after constant chaos in a feat for stability in all areas of our lives. Then boom, we got hit with COVID for a second time within a two month period. There was a silver lining to our COVID quarantine though. My wife and I had a full week at home together to discuss a dream that we both had prior to meeting one another. The dream was to find a way to live small and seek BIG experiences.
We tossed around the idea of renting or selling our home to make that dream happen. We had already been revisiting the dream prior to the quarantine, but we always went back to the "we could never sell our house" talk. Honestly, the quarantine period put things into perspective for us and helped us get back in touch with some of our dreams and goals. By the end of it, we had weighed every scenario we could think of.
The most important discoveries were that 1. we wanted to move forward with the dream, 2. we realized that time was of the essence, and 3. we wouldn't be able to afford it without selling our home. We roughly calculated that if we sold our home, not only would we be able to go travel and live this life we had only dreamed of, but we would also be able to dig ourselves out of significant credit card debt, theoretically cut our expenses in half, and no longer be so financially stressed barely making it month to month for the third year in a row. Personally, one of the best bonuses that I could have asked for was MORE FREE TIME TO EXPERIENCE LIFE.
Within a week's time, we made the decision to sell our house and do the thing. In June 2022, within the first 24 hours of our house being on the market, we had a cash offer at our asking price plus an offer to buy all of our furniture. This offer was what we needed to say yes to our dream.
The transition to full-time travel trailer life
Accepting the offer on our house opened up a whole new can of worms for us. To name a few, we then had to downsize our belongings, have minor repairs done on the house, sell both of our vehicles to be able to afford a truck, and find the best travel trailer for our needs. Not to mention everything in between and the fact that we were still living paycheck to paycheck and barely making it by. Finding extra money to be able to afford these benchmarks wasn't easy. Focusing on the light at the end of the tunnel, a sense of freedom in many forms, got us through this phase.
For us it ended up being that first, we accepted an offer on our home, then we leveraged our 2020 Micro Minnie Winnie 2100BH as a downpayment on our 2020 Outback 340BH. Next, we traded in both of our vehicles for a 2019 RAM 2500. This was all done within a couple of months and each commitment was done strategically. Once we secured our travel trailer and truck, we felt better about having already said yes to selling our home. The main thing we wanted to avoid was selling our home out from under ourselves with nowhere to land. This may not be how it works out for everyone, but it was part of our attempt to keep things as stable as possible during the transition. Once we had our hands on our travel trailer, my wife bounced back and forth from our house to our soon to be home on wheels making repairs and updates. She built a custom bed for Finn in the bunkhouse, which would be his room, and picked paint colors and decor for the interior. The updates my wife added really made this place feel like our home from the start.
The stationary travel trailer lifestyle
We arrived at our stationary location at a campground in Southern Arizona in mid-October 2022. Here, our monthly rent is around $400 (+ electricity) which averages out to around $15 a day. When compared to our traveling nightly rates of anywhere between $40-$120, not including other daily expenses like gas and supplies, we are currently living the stationary dream. Our amenities here include two pools (indoor/outdoor) and a hot tub, laundry facilities, a recreation room, and a shared kitchen all nestled in a gated, quiet community.
We intentionally chose this location to be close to my wife's family so we can make up for lost time over the last few years. I'd like to add that one of the massive benefits of having such an affordable and safe stationary location is that it is the perfect way to take advantage of mini trips to new places without having to move Atlas and all our belongings. Easy places to get to include the Coronado National Memorial, Grand Canyon National Park, Horseshoe Bend, Joshua Tree National Park and Petrified Forest National Park.
Compared to constantly traveling, the stationary lifestyle is more laid back. This laid back vibe has been an enormous change of pace for us as we have been go, go, go for the last few years. Thankfully, the area we are in is beautiful with lots of options for outdoor recreation and grandparents nearby for Finn. We plan to keep this as our stationary base through February 2023. Once the seasons start shifting in the spring, we plan to continue on our loop of the U.S. by heading north up the West Coast and then cutting across to the east along the upper portion of the lower 48 states. We may even pop into Canada!
Welcome to the New Year!
Though transitioning to this way of life has simplified our lives in many ways (e.g., a massive decluttering) and has relieved a lot of stress, we also face new challenges every day. It honestly feels like our neural pathways that haven't been activated in a while are being re-ignited with the new experiences we're encountering. Also, we recognize this season is a unique once in a lifetime opportunity for us, and we're all in with zero regrets. Sure, we miss pieces from our old lifestyle from time to time, like a full size bathroom and a dishwasher, but these are luxuries that we took for granted. Right now, we are feeling excited for what 2023 has in store for us. January 2023 was also our 6 month anniversary of living in Atlas. Wild! Thanks so much for reading, and we wish all of you a Happy New Year and a lifetime of safe travels and shade under the one and only, MoonShade!
Pro Tips
Favorite Apps
Roadtrippers has been the app I have utilized on every cross country road trip I have ever taken, including this adventure. It's great because you can put in a starting and end (projected even if it's not final) point and use the app to look up places to stay and things to do right along the route. The app also gives you estimated overall distance, drive time, and estimated cost for gas based on your vehicle's specs. I'm honestly not even explaining half of the capabilities of this app. To plan your next road trip with Roadtrippers, click here!
AllTrails is another app that I have used since I first started land exploration. This app is the best way to find hikes, near and far, and get a good gauge on them before making the trip out to the trail head. With a kid and dog in tow, looking up trail ratings, rules, and descriptions beforehand is a must. Not only can you virtually explore the trails before you get therre, you can download maps to your device so you can track your location in the palm of your hand as well as log your hike by recording your session via the app. To find your next trail with AllTrails, click here!
Must Haves for Full Time Travel Trailer Living:
Nice-to-Have Gear: