12 Moons of Christmas: KC Hilites w. Eric Myers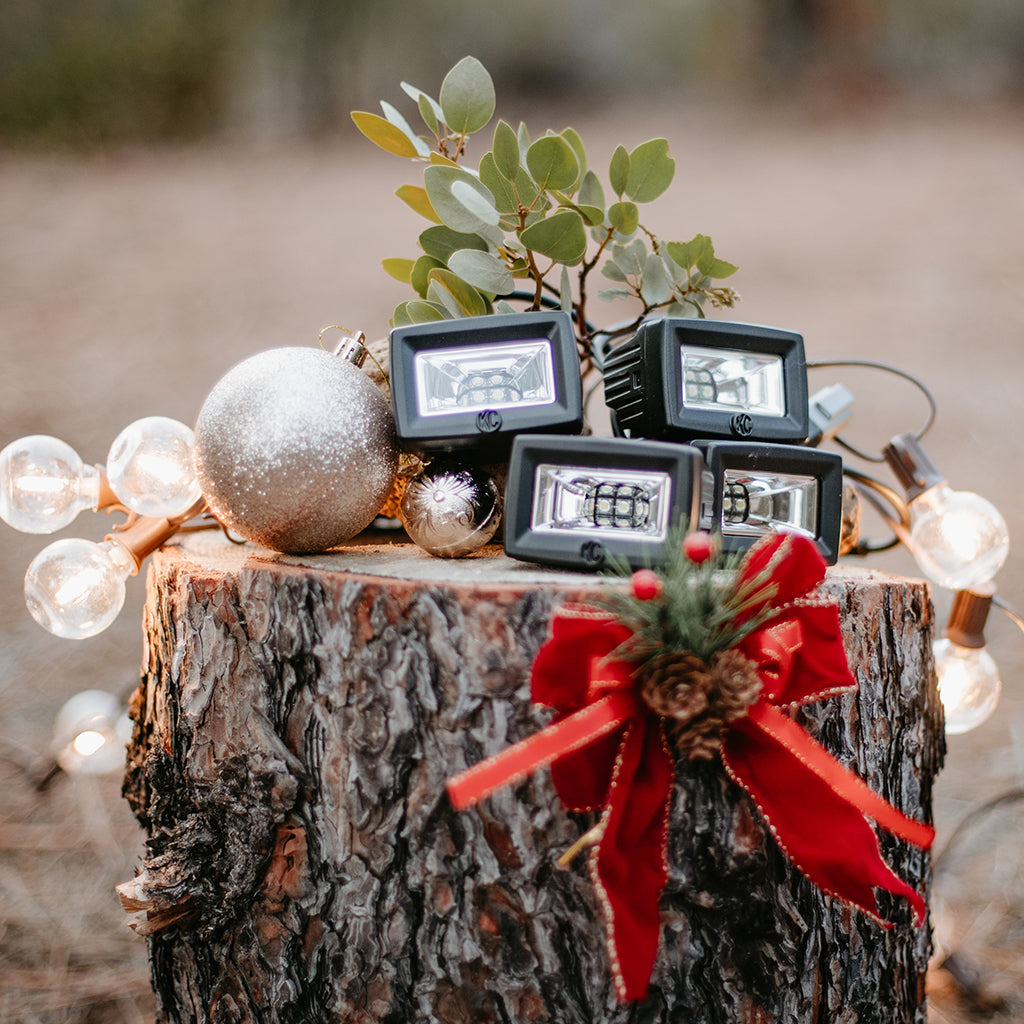 We had the original Moon Vehicle Expert himself—product expert Eric Myers—review our first featured product:
The KC Hilites 2" 20W Flood Beams
See his setup and read his full review below! 
Hurry, this'll only last til November 16th at midnight! 
---
When we first hit the road in 2020, we didn't have exterior lights on our campervan. It didn't take too many nights spent in the woods before we realized that having a way to light up our campsite would make our experience more comfortable and safer. So, I found myself ordering a pair of cheap flood lights from Amazon. It wasn't long after that we got a frantic knock on our door in the middle of the night. We were in the middle of nowhere deep in a national forest so needless to say it freaked us out a little. But because of those exterior lights I was able to see who was out there and talk to them before deciding to open the door. Turns out they just needed help getting their car unstuck!
Since then we've used our exterior lighting for things like:
Towing someone out of a ditch in Washington
Checking for bears before letting the dog out in Alaska
Lighting up a beach party in Baja 
In fact, I wouldn't consider a rig complete without a good exterior lighting setup.
There's a catch though. Those cheap Amazon lights? Yeah, they were full of water just a month after installing them. I'd even tried to seal them up with butyl tape (which also looked like shit). That's why when building my second rig I knew I didn't want to skimp on the quality of light I choose for my exterior. These things see a lot of abuse. They are exposed to the sun and the rain, but also have to endure 70mph on the highway. Not to mention how often they get hit by tree branches. So quality matters.
I'm sure you've heard of the KC Hilite brand. They made their mark on the off-road racing world in the 1970s and are known for building some of the most iconic, performance oriented lights on the market. I'm happy to endorse KC Hilites products; they've never let me down.
The C-Series LED Flood Beam lights are the perfect addition to my rig. They pack a lot of punch for such a small light, offering 2,200 lumens and a 120 degree light pattern which is a sweet spot for camp lights. Only drawing 1.6 amps each, I don't have to worry about them drawing my battery either. The IP67 UV resistant aluminum housing, GORE military breather membrane, Lexan lens, waterproof connectors, and stainless-steel mounting hardware all add to my sense of confidence. Know that once you put these lights up, you're not going to have to worry about maintenance for a very long time.