Vegetarian Three Bean Stew
By Seb Cancino
With its simple assembly and bold flavors, adding this vegetarian three bean stew to your travel or home base recipe rotation is as easy as 1, 2, 3!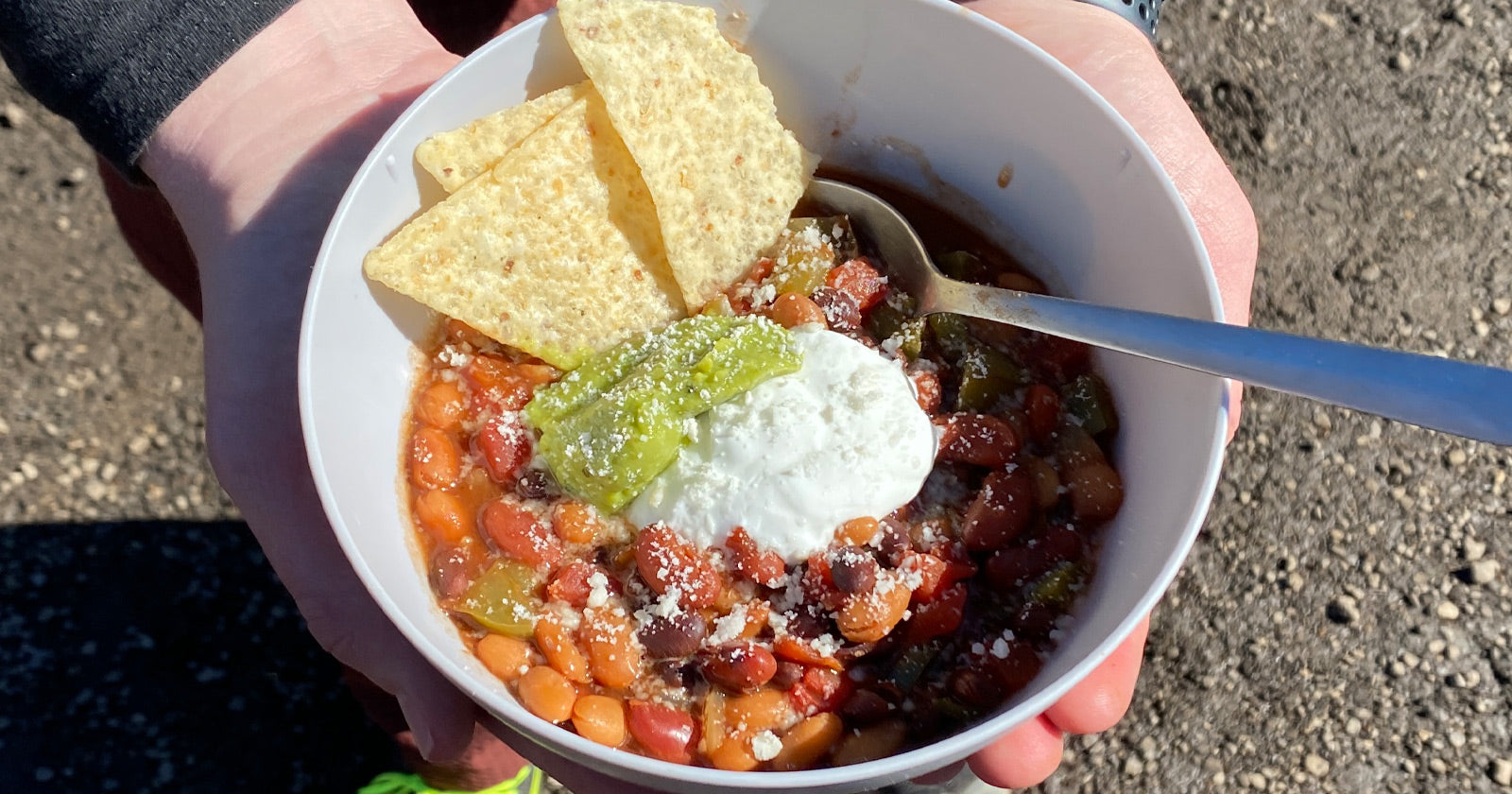 Everyone needs a simple, comforting meal at the end of a day of work or play. Add some spice and make it a one-pot-wonder and you've got the equation for this comforting vegetarian three bean stew.
I love the fact that you can tailor the recipe to your tastes. Dial down the heat for sensitive palates, thin it out for use as a side dish, thicken it up for burrito filling, or add more veggies for a heartier dish. Honestly, any dish you can scoop with tortilla chips is a win.
Tools
Knife for cutting vegetables
Spoon or utensil for stirring
Large saucepan or medium pot (you probably only have one pot anyway, right?)
Cutting board or surface
Measuring spoons (optional)
Single burner
Ingredients
Olive oil
One medium onion, diced
One medium green bell pepper, diced, seeds and veins removed
2 cloves garlic, minced
½ - 2 teaspoons cumin (to taste)
½ - 2 teaspoons chili powder (to taste)
1 jalapeño, coarsely chopped (remove seeds and veins for less heat)
One can (15oz) black beans
One can (15oz) pinto beans
One can (15oz) kidney beans
1-2 cans diced tomatoes (spicy diced tomatoes optional or to replace fresh jalapeño)
1-2 cups vegetable broth (or water)
Salt
Pepper
Additions (optional)
Cheese (cotija, parmesan or your favorite shredded cheese)
Sour cream (plain Greek yogurt is a great substitute)
Chopped cilantro or green onion
Hot sauce
Tortilla chips
Steps
Heat large saucepan or pot over medium heat
Add olive oil to coat bottom of pot and sauté onion, green pepper, and a pinch of salt until the onions are softened and translucent.
Add minced garlic, cumin, chili powder, and jalapeño (optional), and sauté for another minute.
Add beans, tomatoes, and 1 cup of broth (or water) and bring to a boil. Reduce heat and allow to simmer for 20 minutes, stirring occasionally.
Add more broth/water if stew reduces more than you wish. Cook down more for thicker stew.
Sample stew and add salt and pepper to taste if needed.
Serve and top with additions (optional).
Enjoy!
Comments/Tips
If you do not drain your beans, you will need less salt and less broth/water.
Adjust the amount of tomatoes based on your taste. Many brands sell tomatoes with a spicy kick, fire roasted, or with green peppers and onions already included. Get creative!
Frozen "seasoning blends" of onion, bell pepper, and spices are a convenient way to add flavor without the hassle of chopping.
For shorter trips (2-3 days) or if you're planning ahead, chop all of your vegetables at home or in advance and store them in reusable containers for a quick dump and cook meal.
Minced garlic in a jar is a time and nose saver.
Add cubed, cooked squash to make it a heartier meal.