How to Be a Good Guest to Indigenous Land
By Damen Bell
Community leader and athlete, Damen Bell, recounts his 2021 journey across Turtle Island and shares challenges and opportunities faced by Indigenous peoples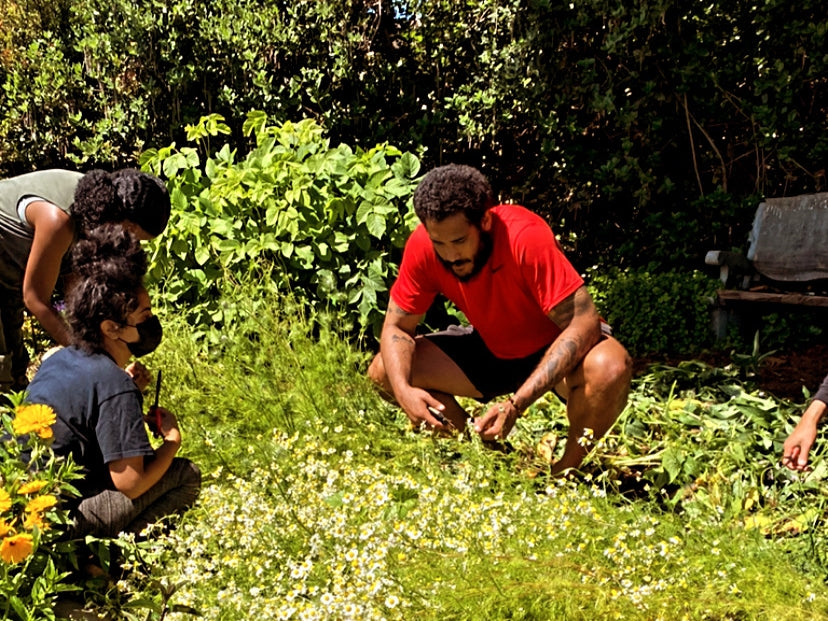 Sangaay laa, my name is nangghaahlaangstangs, and you can also call me Damen. I am a Black and Indigenous man (Haida and Tlingit) from a proud Haida (Higdáa G̱ándlaay) community in Alaska where I grew up fishing, hunting and practicing Haida traditions. I had a unique opportunity to leave Hydaburg and reach my dreams of playing professional basketball, but more importantly, I was able to discover my purpose in the process. Since I set out on my journey, I have always believed it was my responsibility to advocate for my people and those who need support. I am now working with folks like Moon to identify ways and opportunities for brands and companies to better support Black and Indigenous communities.
Setting an Intention
As I set out on the road in summer of 2021, I had a number of curated experiences and projects set up. I wanted to go on bike rides with community-centered cyclists, connect with Black and Indigenous relatives, and come up with ideas on how non-Indigenous folks could support Indigenous communities in the "United States".
When I speak about the "United States", I don't connect to the notion of being an "American." As a Black and Indigenous man, I carry the intergenerational traumas and beauties that come with being of these descents.
I have always been proud of my two heritages. I grew up immersed in the Haida culture in my village of Hydaburg at the southern tip of Southeast Alaska. Growing up immersed in an Indigenous community where culture is at the forefront and having the lived experience as a Black man, I have grown to be hyper-sensitive to anti-blackness and Indigenous erasure.
Indigenous Erasure
Indigenous erasure is where settlers discount or eliminate the culture, peoples and politics of Indigenous nations. This erasure has been demonstrated in many forms since first contact when settlers started arriving on the shores of Turtle Island, the name given to "North America" by many Indigenous groups on the continent.
Oftentimes, we are associating Indigenous people as an afterthought. In order for European settlers to claim and steal land, they had to eliminate Indigenous people through violent tactics that the United States government encouraged. As time progressed, the government was forced to adapt and start adopting different ways of colonizing Indigenous peoples. They started to utilize coercion in the form of: forcing children into boarding schools and threatening jail time if parents did not agree and this was erasure of the culture, they forced Indigenous women to become sterilized to start eliminating further production of Indigenous peoples. There are several forms of Indigenous erasure that take place right in front of us and we have a responsibility to start paying closer attention.
When these European settlers began "discovering" Indigenous peoples in the 1400's and after, they looked at us as less than and used the word "savage" to characterize us. They saw us as fierce, violent, and they believed we needed to assimilate and align ourselves with European customs, languages, cultures and foods. The federal governments of what is now the United States and Canada organized different forms of attacks on Indigenous people through forced removal to reservation lands, separation of children from families for placement in boarding schools, white washed history and taking lives for land claims.
Oftentimes, we see Indigenous erasure in language right in front of our faces without realizing it. You will hear folks say "Native Americans once lived here" but fail to recognize they likely cross paths with Indigenous people often. Indigenous people and communities are also not a monolith: we have over 500 federally recognized tribes throughout the "Americas." When you speak of Indigenous people, speak of Indigenous people in present tense. We are still here working to save our languages, to heal our communities from colonization, and to protect our people.
Anti-Blackness on the Road
When I was on the road, I came across a park on unceded Southern Maidu and Nisenan Land also known as Folsom, CA. I was driving down the freeway where I first saw a park named "Sq*** Valley Park and not too long after that, I came across a camp site called Negro Bar. I was yet again reminded of how racism is right in front of our faces on a daily basis and we don't seem to bat an eye unless we are harmed by these derogatory names.
It is now 2022 and folks are finally having the conversation around changing the name as you can see here. This is over 60 years after desegregation in national parks occurred but I can confidently say that many Black folks do not feel safe in the outdoors unless with a large group. This is what comes with being Black or Indigenous in the outdoors or in National Parks. A constant fear of being harmed: not by animals or predators, but by white supremacy.
There are several ways to support Black folks in the outdoors feeling safer. Buy from Black owned businesses like Unpopular Black, a Black woman owned company focused on creating space for Black folks in the outdoors. We all saw the urgency surrounding a missing white woman traveling on public lands, but the same attention was not brought to a Black man's case as he went missing in an Arizona desert. Black people make up 13% of the country's population but account for one third of the total missing persons cases.
As I've stated before, these systems were created to do exactly what they are doing and that is NOT protect Black and Indigenous folks. We all have a responsibility to advocate for BIPOC (Black, Indigenous, & People of Color) folks in the outdoors and on the road.
MMIW
Indigenous lands and people are constantly under attack through land desecration like at Standing Rock in the Dakotas and Line 3 in Minnesota. When these oil pipelines are created, they come with man camps and hundreds of men who may have not undergone background checks and may have criminal records. These men are then put out in rural areas on reservations or near villages where they are free to commit crimes, frequently without punishment due to laws that protect non-Indigenous perpetrators from tribal law enforcement and jurisdiction. The presence of these projects and their employees have led to rising numbers of sexual assaults, drug trafficking, human trafficking and violence.
The non-consensual building of these pipelines on Indigenous lands contributes directly to Indigenous erasure. Our women are going missing at disproportionately high rates. If you are unfamiliar with MMIW+2S (Missing and Murdered Indigenous Women & Two Spirit), I would encourage you to check the link and donate to MMIW+2S initiatives. Missing and Murdered Indigenous Women is an ongoing tragedy that has plagued Indigenous women and families since first contact. With Deb Haaland taking office as the first Indigenous US Secretary of the Interior in 2021, she immediately announced the formation of the Missing and Murdered Unit which will focus on analyzing and solving the cases of missing and murdered Indigenous people.
As I drove long hours on major freeways, I began counting semi-trucks and painting a picture of the correlation between the trucking industry and MMIW. One day on a drive from Arizona to New Mexico, I counted over 100 trucks. I began to wonder where these trucks stopped consistently, and to no surprise, I would see dozens of these large trucks congregating at gas stations and truck stops on reservations and near Pueblo's in New Mexico.
I started to think: What could be done to monitor the trucks that were coming on and off of reservations? Could we potentially create coalitions of men to travel around the reservation as vigilantes, flexing their sovereign right to justice?
These thoughts began to swirl around my head as potential steps that could be taken to mobilize the men in their local communities while giving them a sense of purpose. Besides, prior to European contact, Indigenous men had roles as warriors, protectors and providers; but, these roles were stripped away from men through colonization, boarding schools and the school-to-prison pipeline. These systems were created to murder and incarcerate Indigenous men and women. These systems are not broken as we often hear folks saying. These systems are doing exactly what they were created to do and that is to erase Indigenous people and claim land and resources. I believe we can all own a part in creating equitable justice systems that protect Indigenous lands and peoples. The first step is doing the work to learn the history that has heavily impacted the society we live in today and the environments of Indigenous communities.
What Next?
I am asked consistently about what non-Indigenous people could do to support Indigenous communities and the preservation of the people and cultures.
Here are some steps you can take to support Indigenous communities:
Support Indigenous initiatives and organizations like:

Invest in Indigenous communities through education programs, healing programs and cultural revitalization programs.
Investment looks like:

Attending community events
Approaching tribal leadership to learn more about how you can support that specific community
Donating cash
Volunteering for local initiatives
Everything should be grounded in asking "how can I help?" and not "here's what I can do"

When you are on reservations, pay closer attention to the trucks that are parked in casino parking lots and at the local gas stations. Start recording and documenting concerning groups of men or women that may be in distress. Be safe, but be aware.
Report suspicious behavior to local law enforcement
Advocate for local policy that will actively monitor trucks and non-Indigenous folks coming on and off the reservation
Advocate for collaboration between your local law enforcement and the tribal government
If reservations and Indigenous communities are open to visitors, stop by the local cultural center and invest in language and youth programs.
Do the work and research residential schools, treaty rights, MMIW and colonization.
Elevate the voices of Indigenous folks via social media platforms, at the institutional level, in schools, in your company and any profession that is connected to managing land.
About Damen
Learn more about Damen and his ongoing work at www.damenbellholter.com.